Latest News
ILRC's Latest Commercial running in Santa Barbara County Posted on June 4, 2021
Are you interested in seeing if you qualify for low-cost internet? Posted on April 30, 2021
Assistive Technology Spotlight: AT Program Information Posted on April 16, 2021
AT Donation Program Posted on April 7, 2021
ILRC's AT Coordinator talks about a high-tech AT Device Posted on March 29, 2021
We are excited to announce that Jennifer Griffin has been named Executive Director of ILRC! Posted on March 4, 2021
Check out the Independent's story about Jennifer below!
https://www.independent.com/2021/03/04/jennifer-griffin-named-director-of-independent-living-resource-center/
Assistive Technology Spotlight- Medline Rollator Walker Posted on February 26, 2021
Assistive Technology Spotlight- Reacher Demonstration Posted on February 26, 2021
ILRC's Assistive Technology Coordinator can help you obtain a wide variety of high-tech and low-tech assistive technology to help you increase or maintain your independence. Check out the above video to learn more about the reacher.
Deaf Services Posted on February 22, 2021
Help us find this power chair a new home! Posted on February 18, 2021
Help us find this power chair a new home!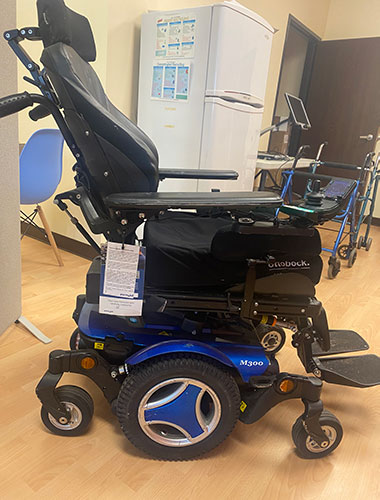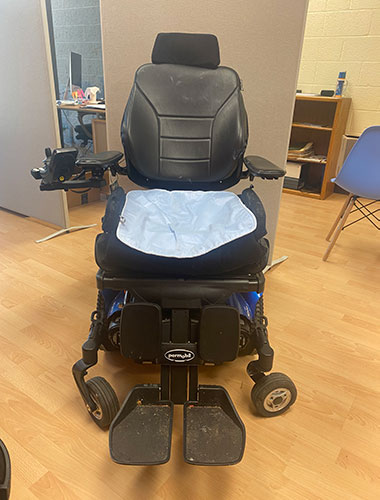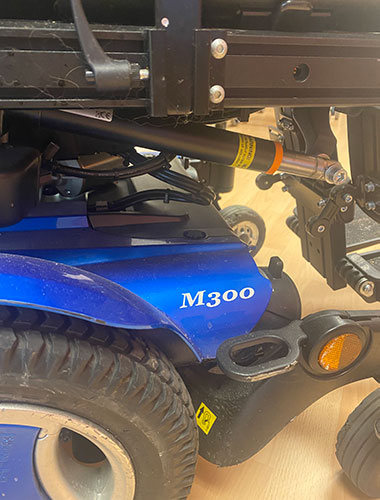 ILRC has received a Permobil M300 Powerchair AT donation. It is in great working condition. It has some small scuffs and marks, but this does not impact the function of this chair.
Owners Manual for this chair: https://permobilus.com/wp-content/uploads/2016/11/OM_US_M300.pdf?fbclid=IwAR3m0eeyzJFAzW-cSVAD4Hhpw3Cu_zrenQ-D4t7LvbDz6kocvCWFSrfHJCk
Please contact our Assistive Technology Coordinator, Tamarr Paul, at tpaul@ilrc-trico.org or 805-963-0595 x104
Note: This item is currently located in Ventura County and would need to be picked up.
ILRC staff talk about the work that we do Posted on February 11, 2021
Independent Living Resource Center | Mission Video from Cage Free on Vimeo.
ILRC Public Safety Power Shut Off (PSPS) Support Posted on February 3, 2021
Do you or someone you know rely on medical equipment that requires power? ILRC provides services to help you to be prepared for, and during, a PSPS. PSPS's occur when there is high fire danger weather and are a wild fire mitigation effort. However, these events disproportionately impact people with disabilities. ILRC can support you by:
-Assisting you in applying for your utility companies Medical Baseline Program
-Helping you sign up for outage alerts
-Guide you through creating a disaster plan
-Provide back-up batteries for those who rely on qualified medical equipment and are in a potential PSPS zone (while supplies last)
-Provide information on community resource centers (charging stations) near you during an active PSPS event
Contact us today!
The 2021 Issue of the VCAAA's LIVEWell is Now Online! Posted on January 15, 2021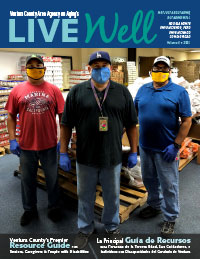 The 2021 issue of the VCAAA's LIVEWell is now online. LIVEWell serves as the premier resource guide for Ventura County's older adults and people with disabilities. This issue focuses on important topics for navigating times of crisis. Content is available in English and Spanish and can be found using the following link: www.vcaaa.org/livewell Hard Copies available soon! Check out page 30 to learn more about ILRC's work on Emergency Preparedness and Disaster Response.
Read the Resource Guide: https://www.vcaaa.org/livewell

Come Join ILRC for How to Create Accessible Community Events Posted on April 25, 2019
Come join Independent Living Resource Center for our interactive panel event "How to Create Accessible Community Events" on Monday, May 6th, 2019 from 10:00am – 12:00pm, at the Dick Dewees Senior and Community Center in Lompoc. Don't miss this opportunity to hear from people with disabilities about the challenges and best practices for making your event one that is accessible and welcoming to the whole community.
Join us on October 19th for the 1st Annual ILRC Fundraising Event! Posted on April 17, 2019
Join us on October 19th for the 1st Annual Fundraising Event for Independent Living Resource Center, at the beautiful Santa Barbara Club in Santa Barbara. Passion for Independence is an inaugural event with cocktail hour and dinner, funding the addition of needed ILRC services.
Our Emcee will be Ernesto Paredes, the Executive Director of Easy Lift and 2018 Santa Barbara Foundation Man of the Year.
Tickets are now available for the October 19th event! Click the link to get started:
https://ilrc-trico.org/pfi/
You may also become a sponsor for the event. The benefits of becoming a sponsor may include preferred seating, recognition from the podium, logo and/or name on this Passion for Independence event webpage, recognition on ILRC's social media feeds and event program, and more!
ILRC Welcomes a New Program Manager! Posted on June 25, 2018
Brian Hollander is excited to be joining Independent Living Resource Center of Ventura, Santa Barbara, and San Luis Obispo Counties.
Brian is committed to the philosophy of self-determination and equal access and envisions making these a part of the DNA of our culture, as well as our system of delivering services. Brian identifies as a person with a disability and has a passionate belief that there are no "disability rights", only civil rights that should be accorded to all.
Brian is an experienced Program Manager, Community Organizer and advocate with deep experience and commitment to the Independent Living movement, having worked for or with nearly all of the Centers for Independent Living in New York state throughout his nearly 25 year career.
Brian has served in a wide array of roles, including self-directed supported housing, human rights, public policy and mental health. He currently serves as the NY Connects Outreach Specialist at Independent Living Center of the Hudson Valley in Troy, New York. Previously, Brian built and managed a first in New York State demonstration project to establish the effectiveness of peer mentoring in Consumer Directed Personal Assistance, New York states self-directed home care program.
Brian also serves as Co-President and public policy chair of New York Association of Psychiatric Rehabilitation Services, a peer-provider partnership organization that advocates for recovery oriented, person driven supports for people diagnosed with mental health conditions.
Brian would like to share how impressed he is with the work that ILRC is doing to build equal access and self-determination in new and innovative ways that create a connected, engaged community. He looks forward to learning from the ILRC team and community, as well as building the future of our movement.